COVID-19 Testing Drive-Thru
Same-Day Results, No Cost
This service is complimentary of the Commonwealth
of Kentucky. Gravity Diagnostics will be on the preferred list
for COVID-19 Drive-Thru locations.
302 W 4th Street Parking
Covington, KY 41011  
No appointment necessary!
Enter through one of the two entrances off Johnson Street during hours of operation.
Stop at the first tent for registration.
Visit the second tent for collection of your sample.
Exit out the 3rd street gate.
Receive an email with your results same day.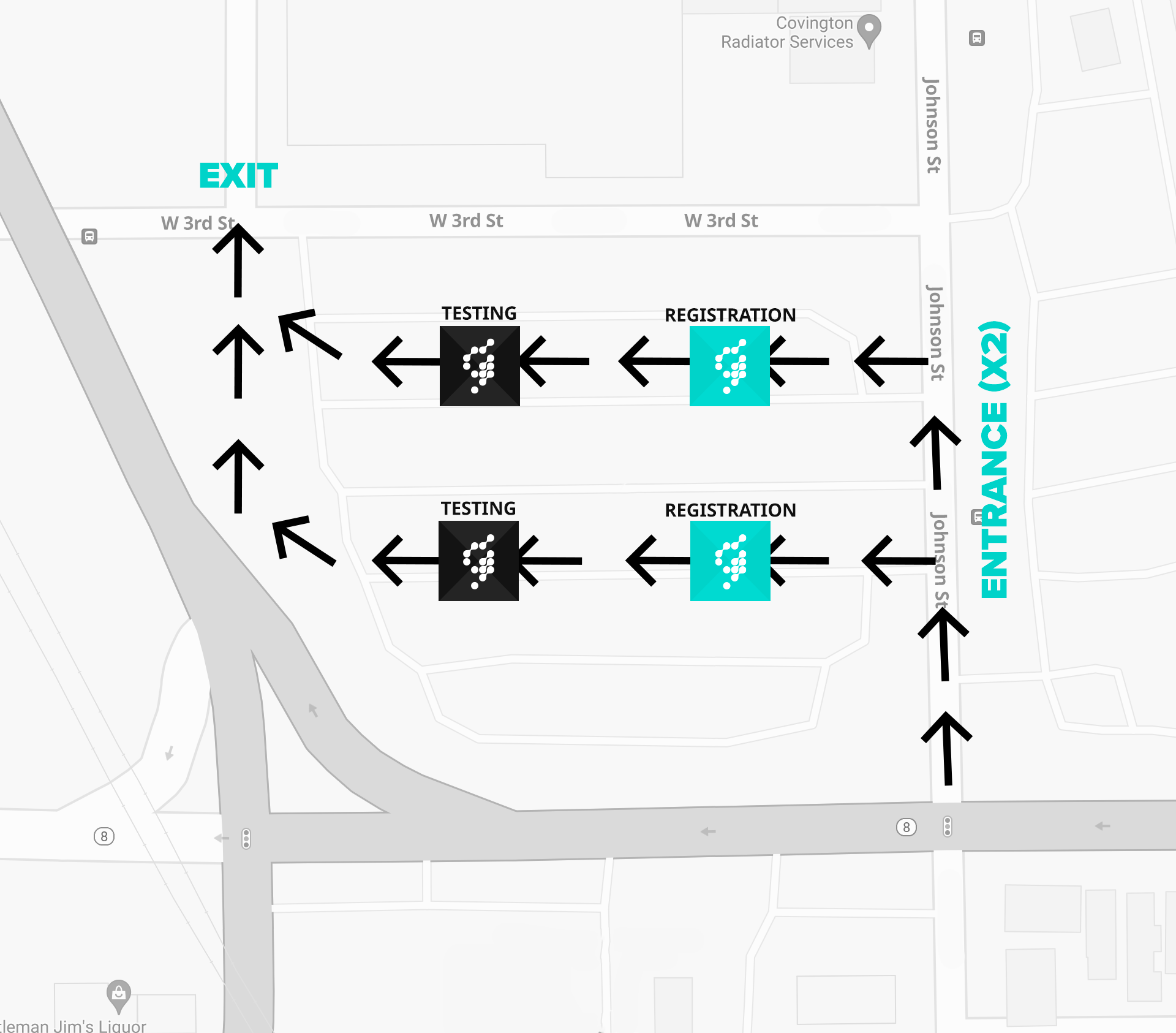 What type of COVID-19 test will I receive?
A PCR test processed by Gravity Diagnostics, a CAP accredited and CLIA licensed laboratory located in Covington, Kentucky. PCR is the gold standard when it comes to COVID-19 testing.  
Do I need to have symptoms?
No, both asymptomatic and symptomatic individuals are eligible.   
Will I collect my sample myself?
Yes, this is a self-administered swab while you remain in your car. Gravity Diagnostics professionals will be there to walk you through the collection process.  
Does Gravity offer testing for COVID-19 at the lab locations?
No. Gravity only offers COVID-19 testing for patients at the drive thru located at 302 W 4th St. Parking in Covington, KY 41011.  
What if the patient is under 18 years old?
If the patient is under the age of 18, they will need to be accompanied by an adult who will fill out a consent form. The adult may also help with collection of the sample.  
How and when will I receive my results?
You will provide and verify your best email address for your results delivery during the registration process. You will receive your results same day to that email address. Your results email will come from noreply@gravitydiagnostics.com. Please check your Junk and Spam folders if you do not see it in your inbox by 12am ET the day that you test.  
Is the drive-thru weather permitting?
Yes, the drive-thru is weather permitting. If there is extreme heat or heavy rain/lightning, we are subject to not operate that day. If you are unsure based on the weather, check our Twitter account @GravityCLIALab for our latest updates! We will also make every effort to put a note on this landing page/the website, but for the most timely updates, please visit our Twitter.