Blood tests can provide important patient information including, but not limited to:
Evaluating how well organs are working

Diagnose diseases and conditions such as cancer, HIV/AIDS, diabetes, anemia, and coronary heart disease

Find out whether you have risk factors for heart disease

Check whether medicines you're taking are working

Assess how well your blood is clotting
COVID-19 antibody testing was Gravity's first foray into blood, which was quickly launched during the height of the pandemic to round out the comprehensiveness of our COVID-19 program, which already included gold standard PCR COVID-19 testing, antibody testing collection services, implementation of a courier fleet and same-day turnaround time we were already offering. Gravity quickly built upon that platform and now offers a blood tests menu with 45 test options to monitor and screen for various conditions, including cardiovascular diseases, hepatic, and renal function, clotting disorders, endocrine disorders, and infectious diseases, including HIV.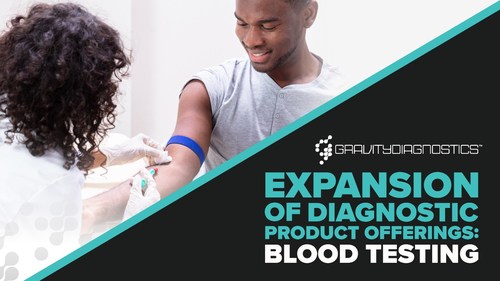 Gravity Diagnostics announces another expansion of their diagnostic product offerings with the addition of blood testing. Gravity currently serves over 1,000 customers nationwide, some of which include private practices, urgent cares, rehab and addiction clinics, pain management, and more. In July 2016, Gravity specialized primarily in toxicology testing, but quickly added pharmacogenomics, sexually transmitted infection testing,…
Read More
Let's Partner Together to Change Healthcare!
Send us a message...