Gravity Diagnostics Featured as Cover Story by Cincinnati Business Courier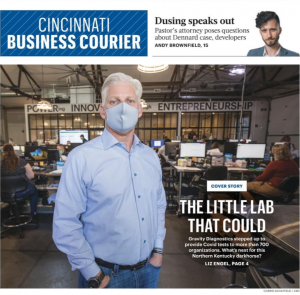 The Cincinnati Business Courier has decided to feature Gravity Diagnostics as their cover story for November 2020! The Courier has told the story of Gravity from the beginning, highlighting when the company decided to make the ultimate decision and test for COVID-19.
"It was a risky move, both men admit. Gravity was on the verge of its best month ever, and, as a whole, was nearing profitability. Adding necessary equipment alone would require a huge investment, around half a billion dollars, and with little runway in the bank, it would have been easier to say no.
Of course, they had no way of knowing just how big of a reach it would be. In the 250 days since Gravity processed its first sample, the lab has increased square footage by 900% and its employment tenfold. Revenue has gone from $5 million in 2019 to $87 million to date this year," said Liz Engel from the Cincinnati Business Courier.
Ever since this journey began, Gravity Diagnostics continues to grow as a company and is continuously hiring motivated employees who want to make a difference in people's lives. Their employees have worked so hard throughout the past few months to fight on the frontlines of the pandemic.
The Courier also highlights their partnerships and continued growth that will help pave the way for the future. To learn more about these read the rest of the article here. 
About Gravity Diagnostics
Gravity Diagnostics is a full-service state-of-the-art CLIA laboratory licensed in all 50 states providing innovative laboratory testing including Infectious Diseases, Toxicology, and Pharmacogenomics. We are an advocate for physicians, patients, and our communities, supporting them with unsurpassed integrity, regulatory compliance, and clinical expertise. Our pledge to deliver the highest professional operating standards in the laboratory service industry coupled with ongoing research and support exemplifies our commitment to being provider engaged, patient-focused, and make the communities we serve a healthier place to live. Learn more about the work we are doing at gravitydiagnostics.com/media.