Gravity Diagnostics Announces Joe Brown as New Vice President of Operations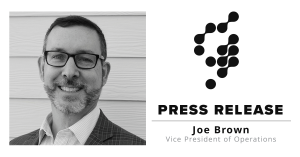 (Covington, KY)- Gravity Diagnostics is proud to announce the hire of Joe Brown as Vice President of Operations.
Joe brings an immense skill set to the Gravity team. Joe is a seasoned executive from heavily regulated complex manufacturing, supply chain, and assembly operations. He has spent 17 years advancing roles of responsibility, applying lean, six sigma, and change agency methods to deliver operational value in aircraft engines, medical devices, and industrial tooling. Joe holds a BS in Mechanical Engineering from Ohio University and an MBA from the University of North Carolina.
"This is a strategic and important hire for Gravity Diagnostics. Joe has an immense skill set, including a strong sense of the culture of safety, quality, and compliance. We are looking forward to strengthening our operations and efficiencies as we continue to scale. We look forward to what all Joe's expertise will bring to Team Gravity," said JP Canner, Vice President, Regulatory, Clinical, and Research Programs at Gravity Diagnostics.
Joe has experience facilitating operational improvements in large multinational conglomerates as well as small privately held companies. He is an advocate of process discipline, collaborative problem solving, and continuous improvement. Joe will create operational excellence across our laboratory and accessioning areas, as well as help us cut down our use of manual procedures for a more organized workflow. We are enthusiastic about having Joe join the team at such a critical time. 
About Gravity Diagnostics  
Gravity Diagnostics is a full-service state-of-the-art CLIA laboratory licensed in all 50 states providing innovative laboratory testing in the areas of COVID-19, Upper Respiratory, Toxicology, Pharmacogenomics, and Sexually Transmitted Infections. We are an advocate for physicians, patients, and our communities supporting them with unsurpassed integrity, regulatory compliance, and clinical expertise. We currently service over 750 customers from small private practices to universities, to Fortune 500 companies.
Learn more about the work we are doing at gravitydiagnostics.com/media.   
Media Contact: media@gravitydiagnostics.com